Customer insight is the collection, deployment and interpretation of information that allows a business to acquire, develop and retain its customers. As a Japanese proverb succinctly puts it: "Insight without action is a daydream. Action without insight is a nightmare."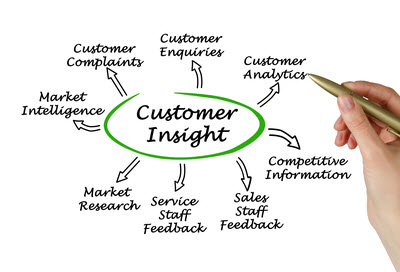 Customer Insight and Competitive Intelligence
Customer insight is often the stepchild of competitive intelligence. Many companies are too fixated on their competitors, and forget what an incredible source customers and competitor's customers are. Customers are the engine that keeps your company in business. They buy based on their perceptions. All you need to do is ask them to find out. There is no better external source for improving your company's current business practices; learning what the competition is saying about your company; what they might have in their pipeline; and getting new product development ideas.
When Do You Get Customer Insight?
At any stage of the selling cycle, connect with your customers, and potential customers, or lost customers. Find out what they're thinking about, and why. Learn how your company's solution will help them run their business more smoothly, or better yet, increase their revenues or profitability. Perhaps you will learn how and why a competitor's solution is working well or not so well. You might find out that you don't know enough about their business to be a contender for future business. Perhaps you'll find out that your partners are not well thought of. You may also learn about partners that you didn't even know existed. Perhaps you find out which companies you need to partner with to increase your odds to win future business.
Customer Insight and Win Loss Analysis
One of our specialties is Win Loss analysis, a great way to gather customer insight by interviewing customers and those who chose a competitor. The interviewing and elicitation techniques used in Win Loss analysis, also encourage sharing from your customers anywhere in the selling cycle. You can learn more about how to encourage customers to share, and how to set up your Win Loss program from our book, Win Loss Analysis How to Capture and Keep the Business You Want.
Customer Insight Articles
Can we help you gain customer insight through in-depth interviews with your customers or those who chose a competitor?
Please contact us at 720-480-9499