Ellen Naylor has received three types of professional testimonials: awards, project work and public speaking.
Professional Testimonials: Awards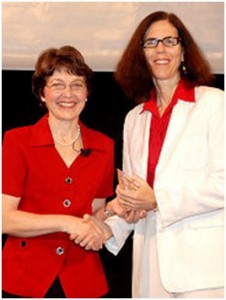 Ellen Naylor accepts Strategic and Competitive Intelligence Professionals Fellow award from Dr. Martha Matteo.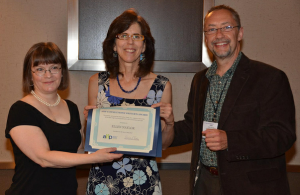 Ellen receives the AIIP Connections Writer's Award for her article,
"How Intuition Can Guide Your Research and Research Business."
Professional Testimonials: Projects
Susan Tull, Vice President, Marketing
I wholeheartedly recommend Ellen Naylor for her competitive intelligence skills and win/loss analysis expertise. Again and again, Ellen has found ways to successfully engage our customers and prospects in candid dialog about their experience with our technology—and in the fast-paced world of digital marketing, connecting with decision makers is no small feat! Ellen drives projects from conception through to completion and provides actionable information that we've used to affect measurable sales improvements. (Susan hired Ellen as a Consultant in 2011.)

Melanie Wing, VP, Strategic Marketing & Customer Insights Leader at Equifax
I have known Ellen for well over 10 years. She began as a service provider to me at Delmarva Power and has grown into a friend and mentor. Ellen is an expert at competitive intelligence, building networks and focusing on providing intelligence to and gathering intelligence from the sales force. Ellen willingly and graciously shares her knowledge and her experience. I have learned much from her over the years. I wholeheartedly recommend her. (Melanie hired Ellen as a Business Consultant in 1995, and has hired her more than once.)
Sally Buckley, Sr. Energy Analyst – Booz & Company
Ellen was always professional and patient in an industry and project that required multiple "sign-offs" and additional insights. In spite of the hardship of the matrixed communication of my organization she had no issue staying focused, especially when there was no way I could be there to support the management, as much as I believed I needed to make it successful. But this is where Ellen truly shone. After learning the key players and the "lay of the land" she was able to proactively achieve success in the project by getting to the stakeholders and just routing back with me on an as needed basis. She was invaluable and brought valuable insights to senior leadership in the short term interviews she conducted along with the final recommendation report. (Sally hired Ellen as a Consultant when she was a Manager of Competitive Intelligence at TXU Energy.
Professional Testimonials: Public Speaking
Ben DuBois, Direct Marketing Columnist, Direct Marketing, Copywriting & Competitive Intelligence Expert 
Ellen and I have worked on several competitive intelligence projects together. I've always been impressed with her knowledge, professionalism and the wealth of experience she brings to the table, to say nothing about the quality of her work.
In addition, while I was running the Minnesota SCIP Chapter, I've worked with over 3 dozen competitive intelligence speakers over the years and one of our best (and most popular speakers) was Ellen Naylor. Ellen has a wealth of valuable and entertaining competitive intelligence war stories she's willing to share with her audience, stories you won't hear from anyone else. Stories that can improve your company's bottom line. If you're looking for a great competitive intelligence speaker, you can't go wrong with Ellen!
Anna Shallenberger,  Shallenberger Intelligence / Targeted Knowledge 

Ellen really saved my bacon. She stepped in at the last minute on a project, and executed it successfully. Without neglecting existing commitments to other projects – both for my group and other clients…. It's something I know she has done time and again for others as well. In addition to presenting and moderating several conference sessions, Ellen has been exceptionally generous in helping me to expand my personal network in intelligence. We've only known each other a short time, but I really look forward to future interactions, and what we can learn from each other… Albeit perhaps initial more as a taker than a giver – her knowledge-base and expertise is vast – and she really keeps it fresh, nurturing its growth.