Competitive intelligence professionals often spend too much time collecting competitive data and not enough time digesting what it really means, and how it can help their managers make better decisions.  In the February McKinsey Quarterly, "Getting into Your Competitor's Head,"  the authors (Hugh Courtney, John Horn and Jayanti Kar) discuss that in order to be more predictive you need to insert yourself into both your competitor's company moves as well as their decision-making, which often don't match.  In the usual McKinsey style, they supplied a great visual to get people thinking about a process to predict competitor's moves and reactions to your moves outside of scenario planning.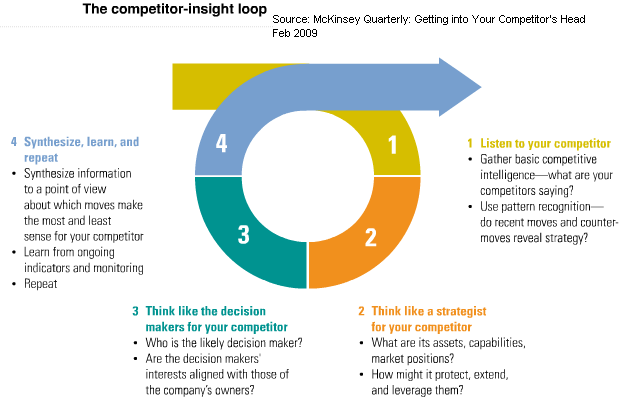 This article reminded me of a company I analyzed in the glass industry.  I learned their major factory was in disrepair, as the company was investing minimally in new equipment and was just patching up the glass furnaces. They were hiring workers who spoke little English, a huge safety hazard around the extreme heat of glass production.  The company was clearly losing money in this business, and I just couldn't understand why they stayed in the business.  The analyst community was also puzzled.
I got my answer as I listened to a quarterly earnings conference call.  One analyst queried the CEO about the failing glass business, and the CEO sadly answered, "Ah well yes, there is our glass business…sigh…" with a heavy voice full of remorse.  He was staying in the industry since his Dad had bought into it, and he wanted to keep it going.  It was an emotional decision, so I predicted that the glass business would not be for sale unless something drastic happened, like an accident at the factory which resulted in the loss of human life or stockholders complaining that this glass business was pulling down the company's earnings and stock value.  A couple of years later, an influential stockholder wrote up his disgust about this company's poor performing glass business and publicized it widely.  My client seized the moment and put in a bid for the glass business and I'm sure they got a good deal.
Some companies conduct an elaborate and expensive process called wargaming to get inside their competitor's heads.  In some cases it's warranted. In simpler cases, be creative: identify the key decision-maker's motivation, personality style and track record through personality profiling, to predict how s/he will lead the company or react to your product launches.  There may be several decision-makers to consider depending on the company and your focus. Don't get blindsided: sometimes market events change in a way that affects the executive's decision-making pre-disposition due to stress or they rely on a key influencer that you hadn't considered.
Do you have any stories to share about how you got into your competitor's head?