My husband, Rodgers is an oil painter of Urban Landscapes, In the West, Landscapes: Europe, and Coastal Water Scenes. He makes his living totally by selling original art work that he creates—no prints.
Over the last couple of weekends, we were in Chicago selling his artwork at outdoor art shows. The first show was a great success in downtown Chicago pretty close to the tall buildings. It took place in a city neighborhood where there are a good number of homeless people, and many people begging for money in these hard times.
Last weekend, we were at an outdoor art show in a prosperous Chicago suburb. It was beastly hot, and the crowds were thin and did not engage with my husband's art. The show took place in a nice outdoor shopping mall. The art booths were set up in two long rows on either side of the road where cars would normally be parked for shoppers.  Customers could enter the booths either from the shop side or the road which separated the two rows of artist tents.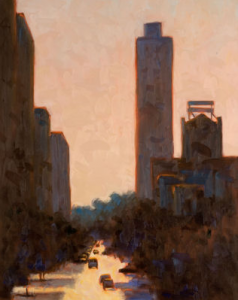 On Saturday night we enjoyed a nice dinner with friends. The next morning, we noticed that our tent flap was open. It was a sick feeling and my husband's painting, Urban Landscape, had been stolen. We were flabbergasted since this was a safe, upscale neighborhood, and the show promoter had hired security to patrol the show. How could such a large painting, 24" by 30" plus the frame be stolen and not detected! This painting does not roll up: it's on a canvas!
So we learned that "safe" suburbs aren't. It was ironic that we had no theft experience in the tougher Chicago city neighborhood, where there are people who have nothing, so might steal in desperation.
So in a cooperative mode, I will share some of the sources that my AIIP family has provided. If you're an information professional running your own business, this is a group you want to join. I immediately posted this theft on our group listserv, and the advice has flooded in. One member, an ex-police officer warned us that the local police might not be so responsive as this is a small crime compared to what officers deal with, so set the stage…as we still haven't heard back from the police and need a case number to really pursue our case. However, we can check out Craig's list and e-bay in case this piece is being sold. We can also post on social networks such as Facebook, Twitter and LinkedIn…and find groups within who are art related.
People asked lots of good questions like: were other people's art work stolen? Does the mall have security cameras? Has your husband posted this theft on his website? Did the art promoter or you have theft insurance?
Here are 2 good sources for finding lost art:
Art loss registry, Tineye a reverse image search engine, FBI's National Stolen Art File
Other sources are more city specific and include connecting with art dealers, pawn shops, art auction houses, art coops, and thinking about who would be likely to lay their hands on stolen art, even inadvertently.
We would love to recover this painting, but it's probably not that likely, so I thought I would share this story with you to remind you to be careful, and to share some sources of intelligence for finding stolen art!