Too many product managers seem to avoid customer interaction. While they know that customer Insights are useful to define products, features and the marketing message, there is this fear of customer confrontation. Yet most customers are actually quite willing to share the experience of dealing with your sales force, and how they chose your product or a competitor's.
In a recent webinar I learned a few new things about the psychology behind conducting win/loss interviews. I have always told clients to makes sure that the sale is complete and implemented before handing them off to me to interview. In the webinar, Steve Johnson of discussed the timing of the win/loss interview.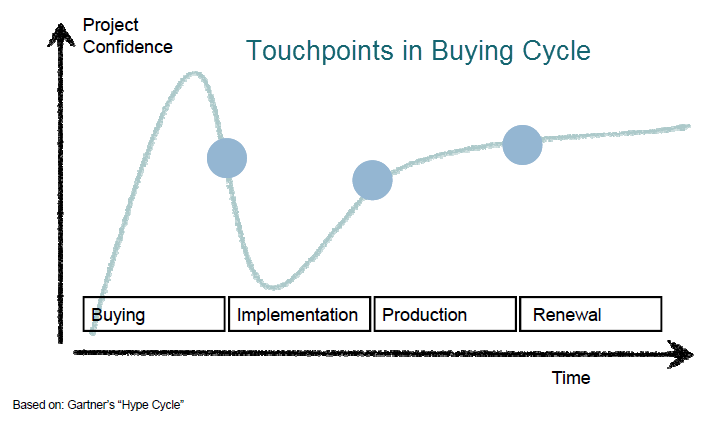 Customers are the least confident during implementation, and often experience stress, so you are less likely to get a clear headed reaction to their decision-making process, and what features they do/don't like or what they think of your products or marketing message. They will be preoccupied with the process of implementation. For example, they might have thought they would get more handholding or professional services during implementation.
Timing is everything in life, and the same is true in win loss analysis. I think the best time to call customers is after implementation, since how that went will often affect their desire to do future business with you or the competition. If implementation did not go well with a lost customer, you might have a chance to jump back into the sales mode sooner. The loss interview will uncover this. You will also learn, in detail, how the competition implemented the product or service, which is great competitive intelligence. The customer is more level headed after the stressful implementation phase is complete and they are trained on how to use the product.
Another observation: It used to be rude to email customers/prospects to schedule win/loss interviews. Now, this is the best way for connection. People appreciate knowing who you are; the value proposition of partaking in a win/loss interview; and that you are not trying to jump back in to sell. Another reason I like to connect via email ahead of time is I hope that they will pick up the telephone when I call them. Caller ID is not a win/loss interviewer's friend since many people won't pick up the phone unless they recognize the telephone number.
I like it the best if my client informs their customers and prospects that I will be calling. Better yet, if Sales informs all prospects and customers during the sales presentation that win/loss interviews are part of doing business, and they occur after the sale is consummated and the product is installed regardless of who wins the business: your company or a competitor.
Win/loss learning is often more about the failure of the selling process rather than selling the product. There were several sources that Steve shared that are worthwhile for those who want to understand customers and the buying and selling processes.
The New Rules of Sales Enablement by Jeff Ernst – This explains that the way we sell is often out of synch with how people want to buy.
Buyer Persona – Adele Revella instructs people on how to ask probing questions to learn what matters to your buyers. This relates to win/loss since it's by probing that you learn the real reasons why your buyers choose you or your competitors, or decide to do nothing at all. You want to uncover how to delight the person who is buying your solution. Other books include: Innovation Games and Never Eat Alone.
In conclusion, if you just have one time to conduct win/loss interviews, wait until after implementation or a rule of thumb is wait 2-3 months after the sale closes. If you wait too long, they'll forget the details around the sales event that you are trying to collect and analyze.